We supply suitable machines and accompany laminating processes with our know-how!
Film coating with optimal laminating systems and processes
Our laminating machines are used all over the world. With the appropriate model in each case, companies from various industries, e.g.
Production companies such as automotive suppliers
Research facilities and laboratories
Companies in energy and medical technology
Companies in the electrical and sports industry
Our roller laminators enable the lamination of a comprehensive range of products and materials. Coat flexibly with a wide variety of materials. Quality from Austria!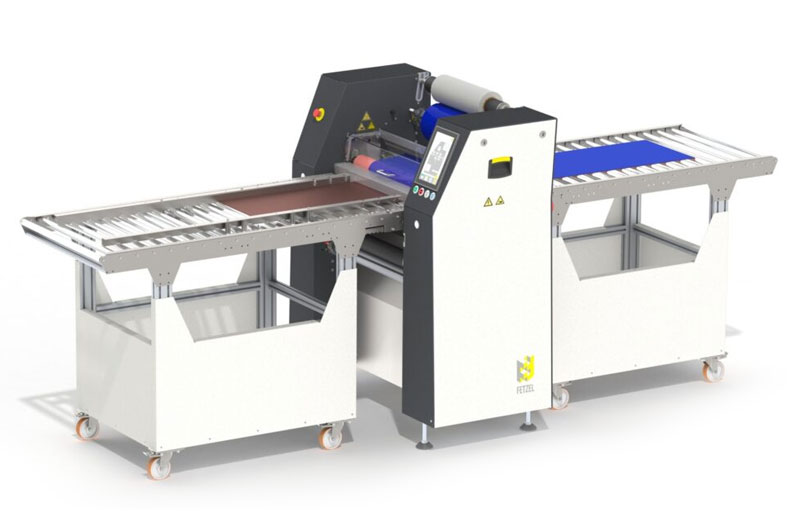 Versatile laminators
Modular laminating machines for film coating
of materials and components!
Are you looking for a versatile and easily adaptable laminator? We have been developing and building tried and tested standard models for over 40 years.
With our laminating systems, you can coat a wide variety of materials with all types of films: printed circuit boards, printed circuits, flat ribbon cables, ceramic and carbon components, glass, sheet metal, silicon wafer, shear, membranes, fuel cells, flexible solar cells, and much more.
We manufacture the laminators in a modular system – from simple versions for manual use to fully automatedsolutions. All models offer
Our laminating machines offer maximum flexibility and investment security. Regardless of whether as a roller-to-roller application, with or without a cutting unit or as a laminator with combined robot feeding.
We guarantee reproducible and optimal product quality with our standard models. Choose a future proof investment!
Individual laminating machines
Laminating systems exactly for your needs
Do you have complex requirements? Are you looking for a roller laminator to complement your automated line? We develop and build the desired laminating machine specifically for your film coating. E.g. if you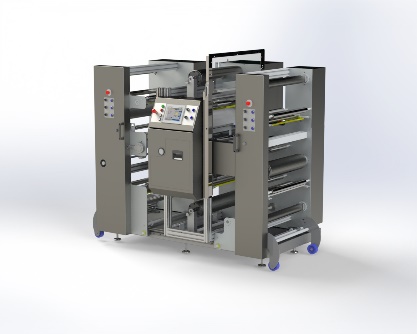 various films. The variety of materials and substances requires easily adaptable laminators. We get to know your application and build the right laminating system based on it.
We have been developing and manufacturing customised solutions at our Vorarlberg site in Austria for many decades. We would be happy to prepare a quotation for your ideal roller laminator!
Feasibility checks
Avoid failed attempts and save time and money
Do you need specific laminating results that follow specific quality characteristics? Do you want clarity for the manufacture of certain components?
We check for you whether the technology you are considering is suitable for your desired film coating. With our know-how, you are on the safe side.
Use the following options for a feasibility check:
Develop your laminating process
Are you looking for the optimal process for coating materials and Components with a wide variety of films? We will be happy to advise you on finding the ideal laminating process or adapting processes.
Joining a flat workpiece with a film or joining two films seem to be simple processes. The following questions show what needs to be considered for the ideal laminating technology, for example: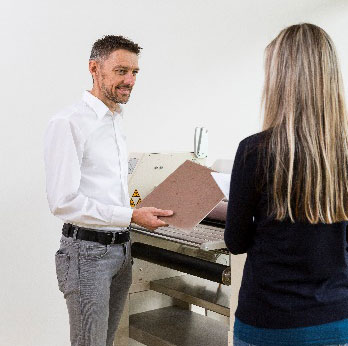 Use our know-how in laminating technology and our process support to find the ideal laminating process according to your quality requirements. We provide support quickly and effectively.
Our more than 40 years of experience in developing laminators will help you to achieve efficient coating with the right laminating technology. With our guidance, you save time and avoid failed attempts.
Easily customisable laminating systems – some features
We produce our roller laminators in various versions: for simple and complex applications. Depending on the requirements, we deliver the machines with manual feeding, cross cutter and/or robot feeding as a fully automated laminating system.
We build laminators for laboratories, among other things. These benefit from many setting and logging options as well as good accessibility. Our laminating machines in production fulfil a high level of occupational safety, are easy to operate and can be retooled quickly.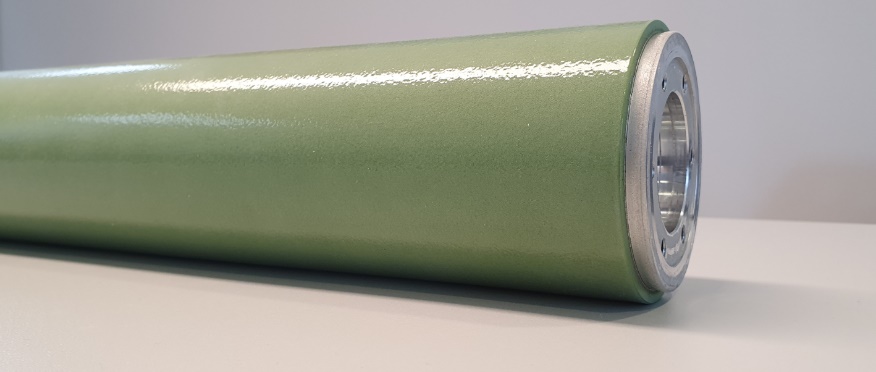 Feature: non-stick coating for laminating systems
In addition to hard roller surfaces made of Teflon or PFA, we supply rollers with flexible rubber coatings with a non-stick effect. Read more about the non-stick coating.
Laminating rollers heatable up to 200º C
enables the thermal processing of a wide variety of materials incl.
cold film
Temperature per roller adjustable. Measurement takes place inside the rollers or contactlessly outside
Results in high reproducibility
Infinitely variable speed adjustment: 0.1-5 m/min or 0.1-10m/min
Covers everything – from hand samples to production use
Faster and even more constant processing
Integrated, powered pull-out rollers
tensions films even with the laminating roller open, reduces rejects in the event of stopped processes
Two integrated film unwinders, manually or pneumatically braked, equipped with pneumatic expansion shafts
ensures very easy loading of the film, perfect running, a constant tension and thus for uniformly laminated products
collapsible winding shafts
quickly remove the wound-on protective film – without the use of a cutter. Particularly helpful for clean rooms, as no dust is produced
automatically transports the placed products into the laminator
enables the extraction of unpleasant or toxic vapours by connecting to an in-house extraction system – health precaution for employees
isolates laminated products without stopping the laminating process – the workflow remains constant
Principles of film coating
Depending on your requirements, we supply our laminators according to one of these four laminating principles:
Sheet to Sheet
Sheet/Roll to Roll
Roll to Roll
Roll to Sheet
Sheet to Sheet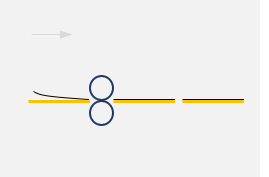 With this principle, the product to be laminated is in the form of a single sheet
or as a stack. Place the film as a sheet on the product before lamination. After that, the laminated product comes out of the laminator as a single, finished product.
Sheet/Roll to Roll
Roll to Roll
Roll to Sheet