Thermal laminating machines
Ahead of the times: modularly built machines for print finishing with heat!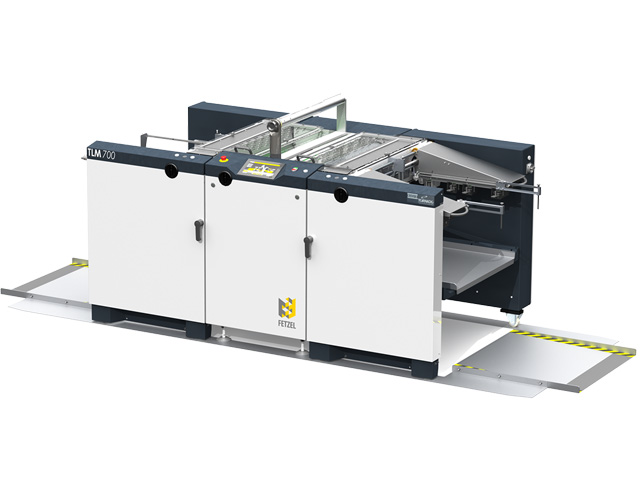 The 5th TLM generation cellophaned
Your printed matter even more first class
Our laminating machines meet the highest print finishing requirements for graphic products. Key benefits at a glance:
Complete service for the graphic arts industry throughout Europe
first-class cellophaning with heat for offset and
digital printing works
revolutionary BDT Tornado technology saves energy
Recipe management for all your paper grades and films
Since 1994 we have been developing unique laminating machines for print finishing with heat – now in its 5th generation. Discover this quality from Austria for yourself!
Print finishing with heat
With our laminating machines for the graphic arts industry, you can cellophane reliably and in no time at all: from autograph cards to magazine covers. The result is abrasion-resistant, classy and durable printed matter in brilliant colours. Some of the features: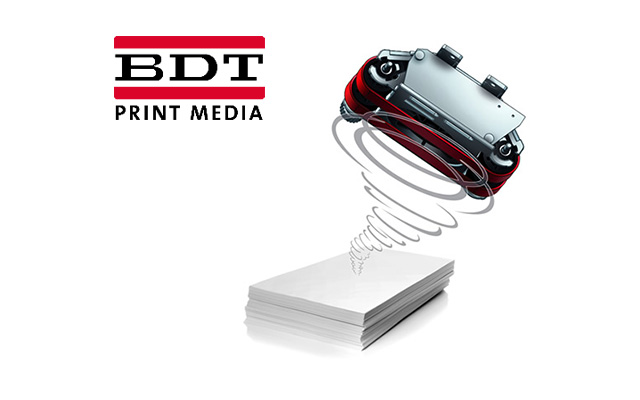 BDT Tornado Technology
This world first enables recirculating media handling. The technology is based on negative pressure via an air flow. This saves 4/5 of the energy required for cellophaning during operation. With this technology, you can move all paper grammages almost as light as a feather. The modules are activated individually. This enables perfect adjustment of the laminating machine to the respective paper. Paper coated on one side is separated without any problems. All settings are saved in recipes. This allows you to switch to another job very quickly – ideal for semi-skilled laminating machine operators.
Loading with pallets
With the TLM 700 laminating machine, you transport your printed matter – by lift truck if desired – via a very flat ramp to the feeder and destacker. Two laser markings guide you to the correct position. With a crank you move the pallet across the direction of travel – even when fully loaded. It doesn't get any more comfortable than this.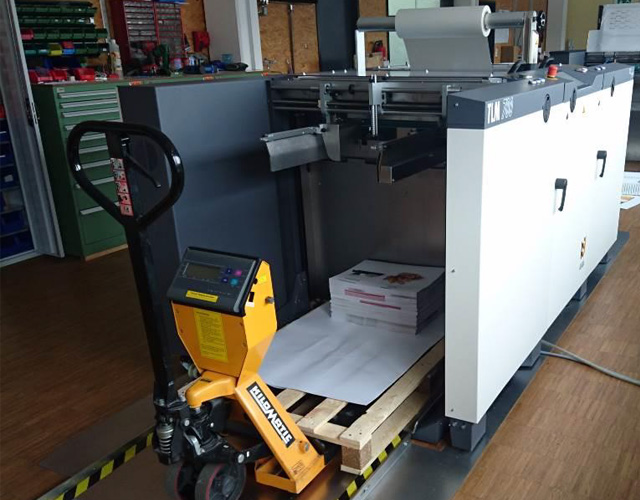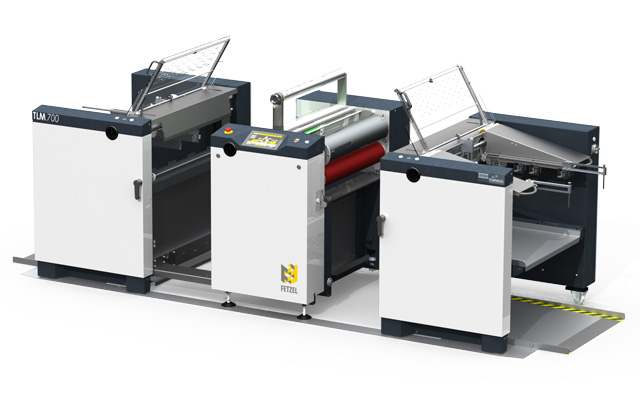 Perfect accessibility for loading and cleaning
Due to the modular assembly of our laminating machines, feeders and stackers can be moved on rollers. This optimal accessibility makes it easier to insert the films and clean the rollers. Under the counter pressure roller of the laminating machine you will find a tray for storing cleaning agents. This way, they always remain within reach.
A comparison of the TLM models for the graphic arts industry
The 5th generation laminating machines fulfil all wishes and requirements. We offer print finishing equipment for offset and digital printing works or the graphic arts industry around the world: high-performance and space-saving. Use our modular system and compare the individual models now: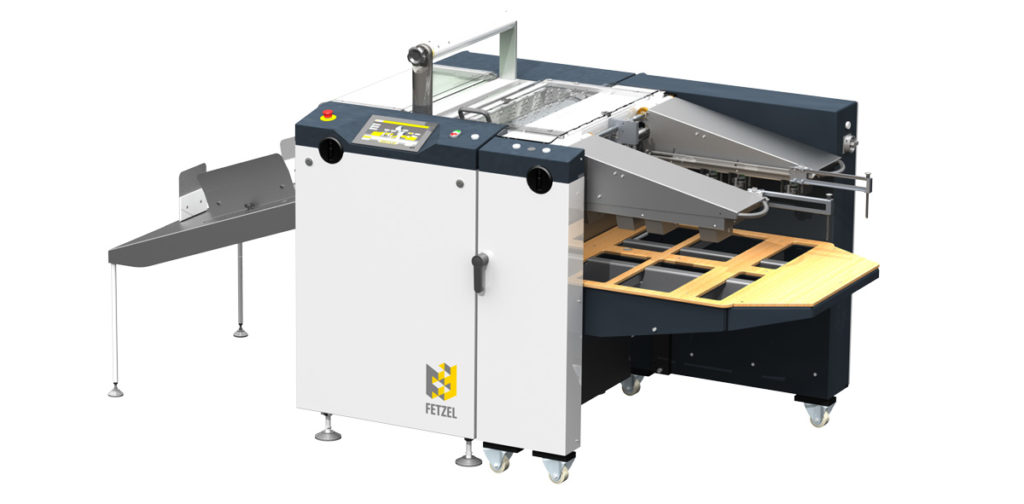 TLM 500 basic
Effective
cellophaning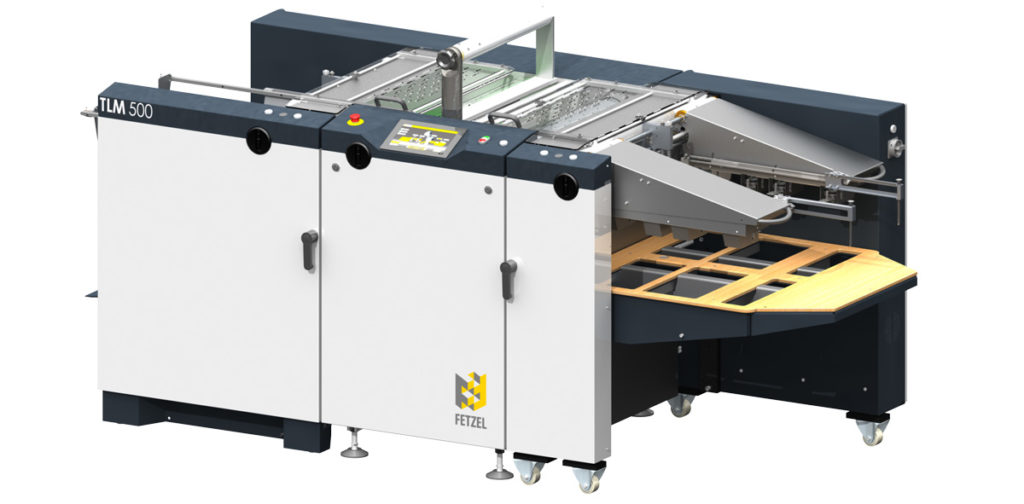 TLM 500 pro
Print finishing
on 3.5 m² surface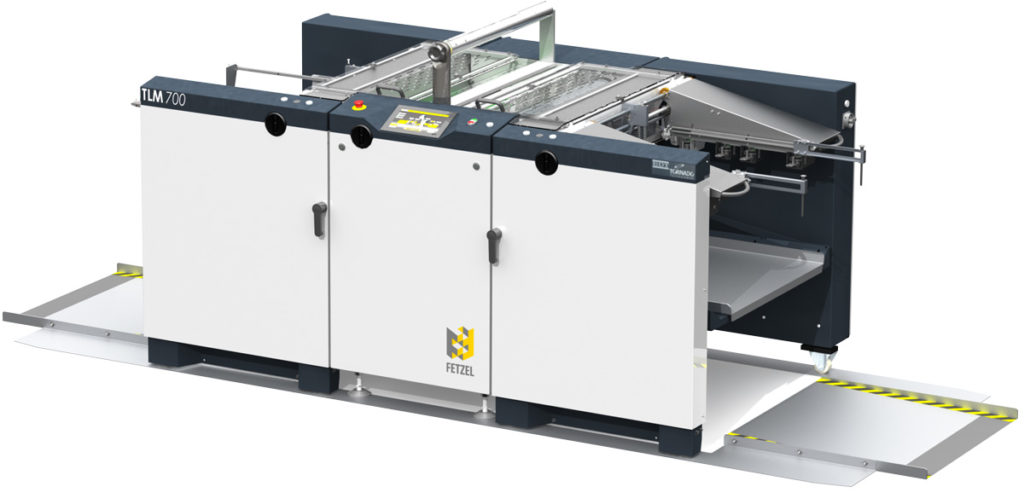 TLM 700
Laminating machine for
large formats
Tornado feeder:
Feeding with pallet
Further equipment details
Do you need a unit for film transfer? We will be happy to design according to your wishes.
Unique management of parameters in recipes
Automated loading of settings simplifies job changes
In the innovative operating unit (graphic interface) of the laminating machines, you can easily store and manage process-relevant parameters for print finishing in recipes: e.g. information on papers and films, parameters for the feeder or destacker, the decurling or separating system, desired temperatures or the respective contact pressure. You load the desired program and your TLM laminating machine is automatically ready for your job!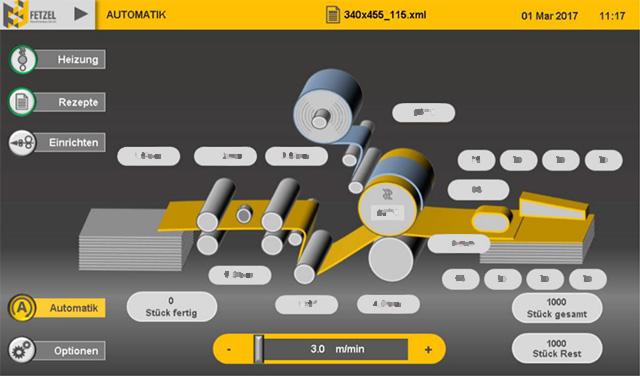 With our 5th generation TLM laminating machines, you can complete your customer orders quickly and efficiently. From us you can get state-of-the-art equipment for print finishing – in the right width and design.